GOSPEL MIXTAPE: DJ Virgin – Todah Dance Mix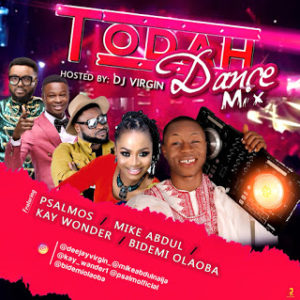 DJ Virgin "The DJ With Difference" comes up with another dance-all mix titled Todah Dance Mix featuring Psalmos, Kaywonder, Mike Abdul, Bidemi Olaoba and other great music ministers songs. 
TODAH (הַתֹּודָה) is an Hebrew word meaning Thanksgiving. Praising & Thanksgiving tarnishes sadness and magnifies goodness.
Put on your dancing shoes and glorify the LORD. Hallelujah 
Download & Share to your loved ones.
Mix-List
– Intro
* Testimony Jaga – Biggie Biggie
* DJ Virgin ft Psalmos x Tope Alabi – Kos' Oba Bire [Ramake]
* Craze Beatz – Mummy Calm Down
* Prinx Emmanuel – GOD no go shame us
* Mike Abdul x Bidemi Olaoba x Adam x Monique – Eyan JESU
* Paul Tao- El-shaddai – Gbe Body Fun JESU
* Mike Abdul x Bidemi Olaoba – JESU Mi Da
* Ailly OmoJehovah x Samsong – Carry Me
* DJ Penny ft Sammy Sas – Testify
* Favour George – Testimony All Around
* Master KG – Jerusalema
* DJ Drex ft ft. Modallas Feeling Good
* Bidemi Olaoba – Bonjour
* Kaywonder ft Mike Abdul – JESU
* Mike Abdul ft Monique – 30 Billion Halellujah
* Tmax – Working For My Good
* Prosper Menko – You Are Great
* OlaSax Gbaja – Alujo Ope
* DJ Gosporella ft Yoyo Michael – 35:55
* LC Beatz – Atelewo
– Outro