MUSIC : Amb. Wole Oni – "Iwa Rere" (Good Conduct) Feat. Bois Olorun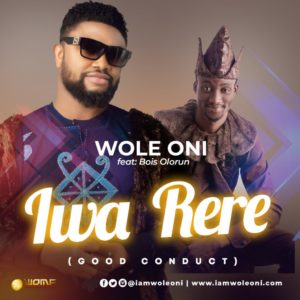 When the legendary music guru producer and serial hit-maker decides to release a piece of his unprecedented impeccable musical prowess, then his audience is in for an experience of a lifetime.
The new single titled – "Iwa Rere" is a fusion, a hybrid of Jazz and Apala, garnished with African percussion, vintage traditional Jazz piano riffs, phrasing and comping rooted in upright acoustic bass, heavily ensembled with African Talking drums, with rich vocal ornamentation and harmonic Apala voice seasoning.
Just when you think you have heard it all, you are presented with a crossover of Jazz acoustic drums resonating to the time signature of bebop while keeping up with the Fuji snare press roles. Wow! Creating an exotica ambience of pads tinkling to make the music sail smoothly.
There have been diverse degrees of interruption into our normal order of life, people all over the world have had to deal with surprises, mostly, unpleasant.
To ease the tension, so that people can calm down, we have to intentionally show kindness to one another, to make it a culture via every means that is available to us, and to sensitise young people to diligence and hard work which has a better result than the get rich quick syndrome.
This music is for everyone who loves both Western and African music.