Video : Millionaire (Good Like That) – Tauren Wells And Kirk Franklin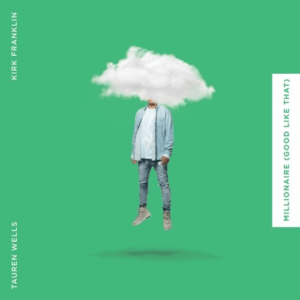 The official music video from acclaimed chart toppers Tauren Wells and Kirk Franklin, is available now. The new music video made its world broadcast premiere on the BET Soul and BET Gospel networks, as well as digitally on BET.com, and is released today on Tauren Wells' YouTube channel.
Collaborating for the first time in recording, the two multi-platinum hit makers had paired up for the thumping song, recording it in Franklin's Dallas studio. Six-time GRAMMY® nominee Tauren Wells and sixteen-time GRAMMY® winner Kirk Franklin came back together again, this time meeting in Nashville for the filming of the video, which was directed by Patrick Tohill. On "Millionaire (Good Like That)," Wells delivers a sizzling track with Franklin, praising God's faithfulness in making a way to come through doubts or difficulties. Showcasing the boundless creativity and inventive sounds they're known for, the song was recorded for Tauren Wells' hit album Citizen of Heaven, released earlier this year.
Tauren Wells says, "I met Kirk Franklin in 2012 in LA, at the GRAMMY Awards!! Never in a million years would I expect meeting someone I've listened to and admired for years, much less getting to make a song and music video with them (that's a whole mood). But by the goodness of God that day is here, with the official music video for our song Millionaire out now!"
Kirk Franklin says, "Millionaire is that subtle reminder that every time someone doubts the God we serve, He shows up that amount again and again. Not to mention having the opportunity to work with the young fly artist Tauren Wells. Working with Tauren was nothing less than an honor. He is charismatic and brings a freshness to gospel music."
Catch Kirk Franklin and Tauren Wells next on the Stellar Awards. Franklin is co-hosting the Stellar Awards show. Wells makes a solo appearance performing a brand-new version of his song "Trenches." Produced by Donald Lawrence, Tauren Wells' new version of "Trenches (Sunday A.M. Version) w/Donald Lawrence & Company" will be released as his next single. The 35th Annual Stellar Awards will air on BET on Sunday August 23rd, at 6 pm EST/5 pm CST.
Watch Video Below;