MUSIC : JUST ONE WORD – Jesus Prince Feat Adeola Adufe & Elijah Daniel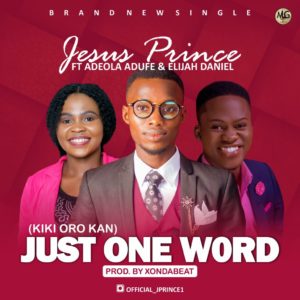 Nigerian based sensational gospel recording artist and prolific song-writer Akindele John fondly known as Jesus Prince releases the much anticipated brand new single titled "JUST ONE WORD" (KIKI ORO KAN) featuring Adeola Adufe and Elijah Daniel
His passion for the gospel of Jesus Christ is the driving force behind the songs he writes and sings, with the aim of impacting and changing lives around the world .
His unique sound talent and anointing has brought him on a platform for ministrations in churches.
This is a prophetic sound that got extracted in the book of John 1 vs 1-5.
In the beginning was the Word, and the Word was with God, and the Word was God.The same was in the beginning with God.All things were made by him; and without him was not any thing made that was made.In him was life; and the life was the light of men.
And the light shineth in darkness; and the darkness comprehended it not.
Be blessed as you listen