MUSIC :The Life You Gave – Tomide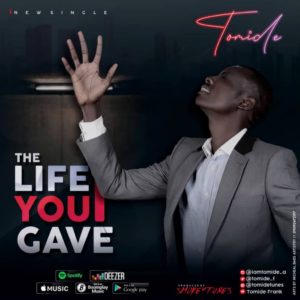 Gospel worship Leader and song writer , Tomide releases another great song titled " The Life You Gave ".
Speaking About the song, he said:
"The Life you gave" is a song inspired of the holy spirit. It echoes the gratefulness of the saved man. it brings to fore front the sacrifice of our Lord Jesus Christ for humanity and acknowledges the blessings attached to this great gift. The sacrifice which was born out of his pure love for man despite his sinful nature has been the only saving grace which we all still enjoy.
Hence, the joy, willingness and desire to continue to worship and bless the Savior. It is a Song that Edifies the Soul of its Listeners in worship!