Music & Video : MAAJO – TINUADE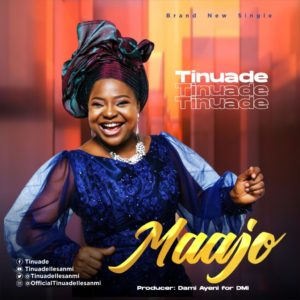 Maajo", an upbeat and joyful dance song of praise and thanksgiving to God is the latest offering from Diadem Multimedia International (DMi) leading lady, Tinuade.
Excellently rendered in Yoruba, English, Hausa and Igbo languages, "Maajo" is an instant atmosphere changing song which extols the Most High God acknowledging who He is and all He has done.
Tinuade shared the story behind the song: "Maajo" is a Yoruba word which translates as "I'll dance."
"It's a song gotten in the place of gratitude to God for all He has done for me and my household. He has done so much and He's still doing great wonders. So what else can I give Him? I will give Him all of me in praise and dance.
"The song was inspired by Psalm 149:1-9. Reading that Psalm will stir you to praise God with your dancing steps even as you listen to this song. He's God capable of doing wonders in praise."
The song was produced by music maestro, Dami Ayeni and the video was directed by Diadem Pictures.