Music & Video : Preye Orok – Separated [A way from the Noise]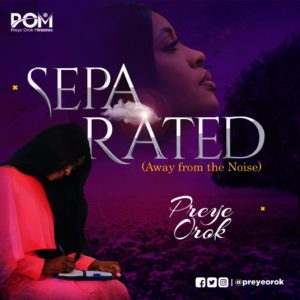 Minister Preye Orok makes a comeback after a brief stint with a record label. In 2019 Preye signed a deal with an abuja based label and released the visual to her debut single 'Dependable God'. Following expiration of her deal with the label, she unveils a new ministry emblem tagged Preye Orok Ministries and ready to churn out more contents.
Coming up first is a single that projects a deep hunger and fellowship. Separated [A way from the Noise] is a song of revival, intimacy and yearning for more of God.
The new song is accompanied with an amazing visual which premiered on Trace Gospel recently.
Preye is a sold out lover of God and its shown on her songs and her goal is to use her ministry to draw many back to the creator.
Separated is a song that will build up an atmosphere of fellowship and worship.
Separated is a song birthed from the place of prayer and desperation for more of God. It is a song of separation, being set apart unto God, a sound of Revival. Preye Orok
The video was directed by Justice DH while Audio was produced by Greenwox.